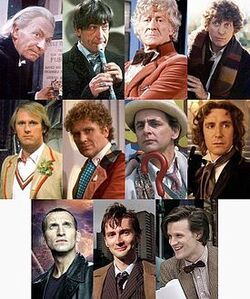 Revamp Notice!
This article has been marked for a Revamp. Our users will get around to improving it as soon as possible.
The Doctor is the most legendary Time Lord in existence that has protected time and space for centuries through a series of guises. He is responsible for the destruction of Gallifrey; which led to the foundation of The T.A. Whom adopted similar principles to The Doctor.
The Doctor is the main protagonist in the television series Doctor Who on which the roleplay is loosely based. The Doctor has yet to appear in the RP possibly to protect the canon of the TV series-- as The Doctor is the last time lord. Although an alternate universe version of The Doctor has appeared.
Ad blocker interference detected!
Wikia is a free-to-use site that makes money from advertising. We have a modified experience for viewers using ad blockers

Wikia is not accessible if you've made further modifications. Remove the custom ad blocker rule(s) and the page will load as expected.